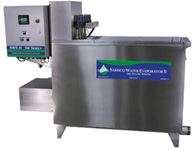 Why Do More Businesses
Trust The Samsco Water Evaporator More Than Any Other Wastewater Solution?
As the market leader in evaporation technology, Samsco brings a unique perspective to the issues and concerns of industrial wastewater management. Since 1985, Samsco has dedicated all of its company resources and experience to the design, manufacture, and application of evaporator systems.
This dedication and experience has enabled Samsco to provide their clients with the best wastewater evaporator available today. MORE »